The communal kitchen at Palazzo Margherita
photo credit: Palazzo Margherita
The buzz around Basilicata right now is the recent grand opening of Francis Ford Coppola's stunning 9-room boutique property, Palazzo Margherita. Mr. Coppola owns other hotels, but the fact that he's chosen Basilicata—a region practically unknown, undiscovered, and most certainly not on many people's bucket list –is quite remarkable given it's very off-the-beaten track location.
One of the last truly unspoiled corners of Italy, bleak, barren, beautiful Basilicata will captivate your family. Here, you'll find locals who are happy you're in town, uncrowded restaurants, crystal clear waters absolutely void of English-speaking tourists, colorful, local festivals, and hearty, peasant cuisine that is simple and sumptuous.
With the opening of Coppola's new hotel and the subsequent buzz it's generated in the travel press, bella Basilicata is on the verge of being discovered, and ready for its close up, Mr. Coppola.
You just might want to visit it now, so you can have the bragging rights to say, 'you knew it when.'
If you're wondering where Basilicata is, you wouldn't be the only one. This southern Italian region straddles two glorious seas and has a long, storied history dating back to its origins as part of the Greek settlement of Magna Graecia, but it usually gets passed over by the average guide book, and even many Italians don't give it much of a second thought.
That's unfortunate, because Lucania, as the region is also known, has a lot to recommend it.
Basilicata is a region I typically recommend to families traveling with children who are at least 7 years or older. It's important to note that Basilicata is not Tuscany. So if you're coming here in search of rolling green hills, ochre-colored farm houses, and cypress trees, you won't necessarily find any of that here.
In fact, you're more likely to find a landscape that's a bit stark and bleak, which has made Basilicata the backdrop for period pieces and biblical movies, such as Mel Gibson's The Passion of Christ.
But families with an adventurous spirit, or who've traveled elsewhere in Italy and are now looking for deeper interaction with locals, who can appreciate its wind-swept beauty would enjoy this remote little corner of Italy.
It's not easy to get here, so you have to be interested in making
the trek south to seek out this untouched corner of the peninsula.
Here are a few reasons you might consider a family trip to this unique region:
Basilicata's amazing and virtually empty beaches top of the list for why anyone would want to come here. Spanning the "instep" of Italy's boot, the region is unique in that it borders both the Ionian and Tyrrhenian Seas.
The Ionian coast is characterized by miles of white, sandy beaches surrounded by lush green vegetation. Crystal clear water (some of the best in Italy) and shallow beaches with small, gentle waves make this coast perfect for swimming and popular with families.
Maratea beach
photo credit: journeyonearth.com
On the other side of the mountains, on the Tyrrhenian coast, you'll find the beaches of Maratea, considered by many to be the region's most beautiful. Ringed by spectacular mountains that plunge sharply to the sea, and a coastline pocked into sandy coves, this area is popular for exploring the numerous sea caves and coves that dot the shoreline. Families with older kids have a number of activities to choose from along these shores, including sailing, diving and snorkeling in and around the coves and caves.
Basilicata was first founded by the Greeks in the 8th c. B.C. and formed part of the ancient civilization of Magna Graecia. Here, like elsewhere in Basilicata, you're more likely to encounter ancient Greek settlements than Roman ones.
Such is the case at Metaponto located right on the Ionian coast. Its vast archaeological area is fun to investigate, and includes 4 ancient Greek temples to

H

Hera and Athena, an ancient market site (agora), and the chance to wander through an ancient Greek urban layout.
The remains of the Palatine Tables, as they're called, is a temple where knights used to gather before departing for the Crusades. The history and ruins of Metaponto leave a lasting impression. Due to its strategic position, Basilicata has, in fact, a varied and complex history that began with the Greeks, but the Normans, Angevins, Saracens, Bourbons, even the Albanians have all left their mark on the region.
Metaponto
The "Sassi" of Matera
Apart from Basilicata's capital of Potenza, the region's most important, and most well-known, city is the UNESCO World Heritage Site of
Matera
. The town is important for its otherworldly dwellings, called the
"sassi,"
or stone caves, all carved directly into the sides of a deep limestone gorge.
The result is a large, almost mythical city comprised entirely of these cave dwellings. Its maze-like streets, hidden alleys and stairways, and historic frescoed cave churches make this city a unique place unlike any other in Europe, and a fascinating place for kids to explore.
the Sassi of Matera
photo credit: Weekendinitalia.org
Chic and Charming Maratea
Maratea is another of Basilicata's crown jewels. Overlooking the sea, its colorful houses and port are reminiscent of its more famous northern cousins, the Cinque Terre or Amalfi Coast, but without the English-speaking crowds. Maratea easily vies for the title of Italy's "best kept secret."
Maratea
photo credit: italianvisits.com
For older children and teenagers, discovering the stalactite and stalagmite formations of the Grotta delle Meraviglia, a sea cave accessible by land, is a big highlight. Don't miss the black sand beaches at Cala Sannita.
Basilicata's National Parks
For such a small area, it's fascinating to me that Basilicata has not one, but two beautiful national parks. Spectacular and solitary, the jagged peaks of the Lucanian Dolomites in the

Gallipoli Cognato National Park

split the region in two. Basilicata shares the Parco Nazionale di Pollino with Calabria. If you want to get a taste of what rural life in Italy was like 75 years ago, visit the mountain towns in either of these two rugged regions where it's not unusual to still see women washing clothes at the outdoor community washing troughs.
By contrast, a very recent and very modern attraction has sprung up in these hills, and it's become quite possibly one of Basilicata's most popular magnets for adventure seekers. The "Volo dell'Angelo" is a zip line that connects the mountaintop towns of Castelmezzano and Pietrapertosa. Castelmezzano (worth a visit in its own right) sits at a height of about 3,300 feet. The "Flight of the Angel" lets you zip across a gaping ravine to Pietrapertosa, located about a half mile away. Not for the faint of heart, this is the fastest and longest zip line in the world, and your speed can reach up to 75mph. The experience is both thrilling and visually spectacular. For ages 16+. Visit
www.volodellangelo.com
for more information.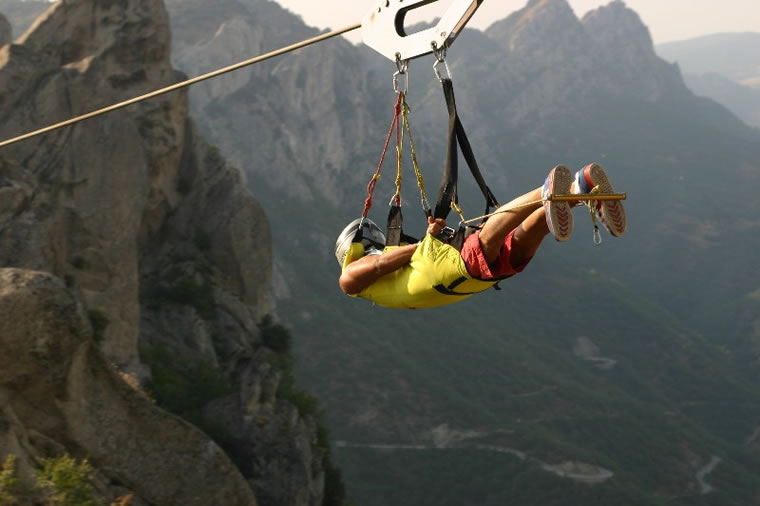 Flying high in the Lucania Dolomites
photo credit: volodellangelo.com
For more information on traveling to Basilicata, where to stay, what to do, or a customized family itinerary, contact www.FamilyFriendlyItaly.com.